O
h James, your lyrics are so cute. <3
Sorry about the unexpected crazyhugegap of entries. I went to Cleveland last week with my grandparents and sisters. It was an awesome trip. Loads of pretty scenery, laughs, and love.
Cleveland's grass is frikkin SOFT! And green! I would have loved to sit out on my uncle Charles' backyard and read while lounging on a blanket. PRECTION!
Anyways, I saw alot of family, my 95 year old grandmother, and caught up with loads of cousins and uncles and aunts that I hadn't seen for 10 years, literally. They were surprised, as was I. xD Family's a beautiful thing. It was great seeing them all together, talking about past memories and taking pictures. *sigh* <33
We left on July 1st, stopped in Charlotte, NC at Mrs. Sonia's house to stay the night, got up the next morning and headed to Cleveland, left Ohio on the 6th, stopped in Charlotte to stay the night, got home on the 8th. We took our time getting places this time, and the whole time we were in Charlotte, we didn't stop at my school once! >.< Oh wellz.
The rest of that week was of sleeping and putting around at home. The whoooole weekend. Oh, and I wrote. Same old thing happened the rest of that week. THEN, my tooth did something odd and unnecessary and caused me great pain all last weekend. I had to endure it until Monday so I could get a dentist appointment. I got no sleep last night because pain medicine wasn't working and I had a looping dream about Michael Jackson. His songs wouldn't stop playing in my head, repetitively. IT WAS INSANE!!! I couldn't take it! I willed myself to think about something else, like SHINee, and once I started playing one of their songs in my head, after a minute, it was back to MJ. @____________________________________@
not cool.
So I gave up at 8:00am, and went to lay down on the couch, watched Golden Girls on tv and fell asleep there for like 5 lame minutes. Then my nana called and told me I could get squeezed into the dentist, so I rejoiced and headed over. I was told to be patient, since I was a walk-in, but I didn't care. I ended up getting in right away, a chinese endodontist ended up doing the root canal, and it was totally painless. I listened to Alex on my Zune while she did it. xDD I think a little of my dentist fears have whithered away, thanks to the nice dentist lady. She even called me a few hours after she did it to see how I was doing. I'm VERY SATISFIED. I can eat sweets now! But I'll be careful. It's a wonderful day indeed. :3 It's a huge relief. You don't even know!
I still have to go back to get more work done on it on the 23rd, and theirs a few more appts after that (before I go off to school), but that'll be alright if I get the same dentist.
Also, I've fallen in love with Alex Eusebio! The cutie from U-kiss. I was already attracted to him a while back, but Stasha and I watched alot of U-kiss stuff and have decided we both really like him AND the group. They only have a small amount of songs and popularity, but their voices are really good and are super hyper, goofy, and cute. And Kevin's undeniably gay with Kibum(Hyungjoon's bro from SS501). Kibum's literally Kevin's master. Their always in pics together, looking all possesive and flirtatious; Kevin's 19 or somethin and has the girliest voice I've ever heard; Kibum likes to bite him and . . . just GAY! But it's kinda cute. I think Gwyn'll like those two. Together. haha!
Update: Observe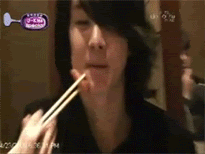 <----- Ain't he cute?! (that's kevin on the right/ kibum on the left)
WHY DOESN'T U-KISS HAVE PICSPAMWORTHY AMOUNTS OF PICS?! It's depressing! Maybe if they released more songs, they'd get more fans gah!!! >.<;;;
Alexander, like I said, is my favorite from that group. He's a devoted Christian and he speaks English and he's like a living cartoon character. He's talllllll and his smile makes me want to kidnap him and bumbard him with hugs!!!!!!!!!!!!! xDD He's dorb to the max.
Okay, I'm gonna go and do other stuff now. Peace!
be blessed. <3
ACHANIS PROGRESS:
9/21
- Raeven